Ferrodol forte
Proper blood formation
The especially developed product Ferrodol forte contains a high dose of iron followed by vitamin C, vitamins B2, B9, B12 and copper.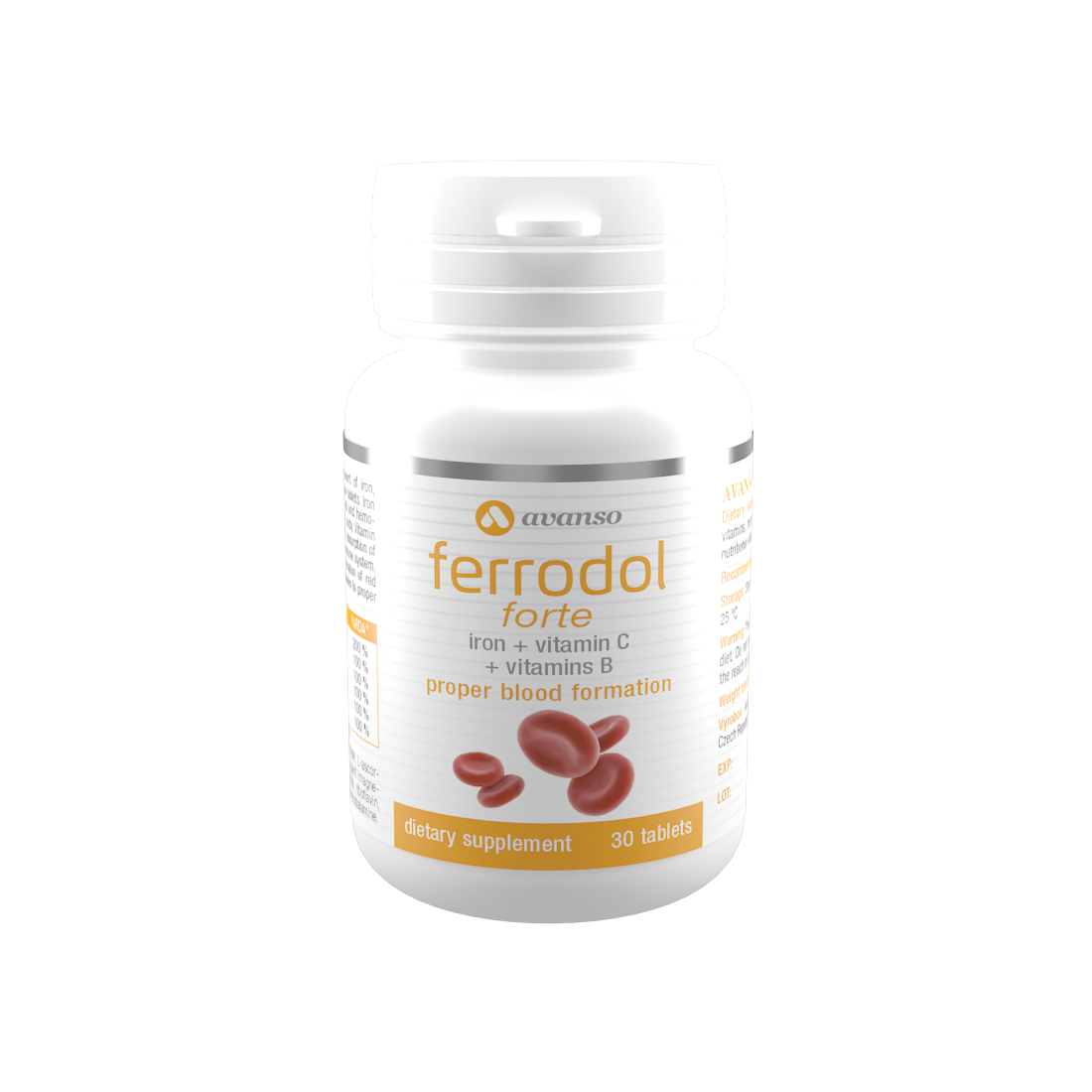 Description
Ferrodol forte is used for the regular supplementation of iron into the body.  The tasty chewable tablets are also a perfect solution for people donating blood.
Iron is an essential component of the blood pigment hemoglobin, which ensures the transport of oxygen to all cells in the body and is therefore essential for respiration. Iron is also part of myoglobin, which supplies oxygen to muscles. This helps, among other things, to supply the body with energy. This is one of the reasons why iron reduces fatigue and exhaustion.
Vitamin C fulfills a number of important functions in our body. It helps reduce fatigue and exhaustion, promotes immunity, nervous and mental activity. It is a powerful antioxidant, which means it helps to destroy free oxygen radicals in the body. Vitamin C also protects the body from heavy metals. Vitamin C also helps increase the absorption of iron in the body.
Vitamins B2 and B12 contribute to the proper formation of red blood cells and their maintenance. Folic acid contributes to proper blood formation.
Composition
Ferrodol forte
| | 1 tablet |
| --- | --- |
| Iron | 28,0 mg |
| Copper | 1000,0 mcg |
| Vitamin C | 80,0 mg |
| Folic acid | 200,0 mcg |
| Vitamin B2 | 1,4 mg |
| Vitamin B12 | 2,5 mcg |
Effects
Iron contributes to the normal production of red blood cells and hemoglobin
Iron helps the transfer of oxygen in the body
Iron supports normal functioning of the immune system and reduces fatigue and exhaustion
Vitamin C is a powerful antioxidant, reduces the activity of free radicals that cause aging cells in the body
Vitamin C supports immunity and helps reduce fatigue and exhaustion
Copper contributes to the normal transmission of iron in the body
Vitamin B2 and B12 promote the normal production and maintenance of red blood cells and contribute to the normal functioning of the nervous system
Folic acid contributes to normal hematopoiesis and normal mental activity
Dosage
One box contains: 30 tablets
Dosage: 1 tablet a day. Take before or with a meal and drink sufficiently.
Storage: In a dry and dark place, temperature of up to 25 C°.
Warning: Do not exceed the recommended daily dose. The product is not intended as a substitute for a varied diet. Keep out of the reach of children.
Manufacturer: Avanso s.r.o., nám. Svobody 528, 739 61 Třinec, Czech Republic