Vita C chewable
Immunity and psychical health
Vita C chewable tablets with tasty flavor are an excellent support for the whole organism.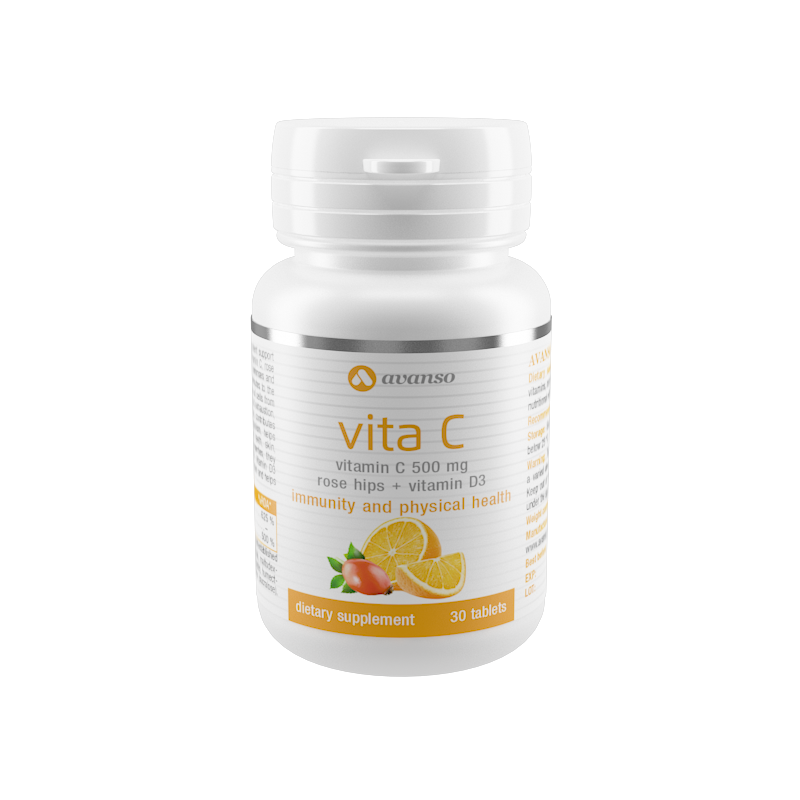 Description
Vita C chewable tablets contain a great combination of vitamin C, rose hips and vitamin D3 that helps to strengthen the natural defenses and adds vitality to the whole organism.
Vitamin C is a water-soluble vitamin, sometimes referred to as ascorbic acid. It is an essential nutrient for the human body. Our organism cannot create it by itself, and therefore we must supplement it regularly. Vitamin C helps reduce fatigue and exhaustion, promotes immune system, nervous and mental activity. It is a powerful antioxidant, which means it helps to destroy free oxygen radicals in the body. Vitamin C also protects the body from heavy metals.
Rose hip contains a large number of vitamins A, P, K, B and E. It contains not only vitamins but also health-promoting minerals: magnesium, calcium, iron and others. It has antioxidant effects, increases resistance to infections, coughs and colds. It helps to lower fatigue and strengthens the activity of the immune system. Rose hip also protects tissues from free radical damage.
Vitamin D3, also called cholecalciferol, is a naturally occurring form of vitamin D. It is one of the nutrients that are essential for our body. It contributes to the proper functioning of the immune system and normal levels of calcium in the blood, supports the normal absorption of calcium and phosphorus, participates in the process of cell division, helps maintain the proper condition of muscles, bones and teeth.
Composition
| Vita C chewable | 1 tablet |
| --- | --- |
| Vitamin C | 500,0 mg |
| Rose hips | 18,0 mg |
| Vitamin D3 | 25,0 mcg |
Effects
Vitamin C helps to reduce fatigue and exhaustion
Vitamin C promotes immunity
Vitamin C contributes to normal collagen production for the normal functioning of blood vessels, bones, cartilage, teeth, gums and skin
Vitamin C is a powerful antioxidant, restricting the activity of free radicals that cause cell aging in the body
Rose hips have antioxidant effects and support the immune system
Vitamin D3 helps maintain the normal condition of muscles, bones and teeth
Vitamin D3 is involved in the process of cell division
Dosage
One box contains: 30 chewable tablets
Dosage: 1 tablet a day. Take before or with a meal and drink sufficiently.
Storage: In a dry and dark place, temperature of up to 25 C°.
Warning: Do not exceed the recommended daily dose. The product is not intended as a substitute for a varied diet. Keep out of the reach of children. Not intended for children under the age of 12. Once opened, use within 3 months.
Manufacturer: Avanso s.r.o., nám. Svobody 528, 739 61 Třinec, Czech Republic