Vitaxa
Vitamin C 1000mg
For immune support
A refreshing orange flavour drink which helps contribute to the maintenance of the immune system.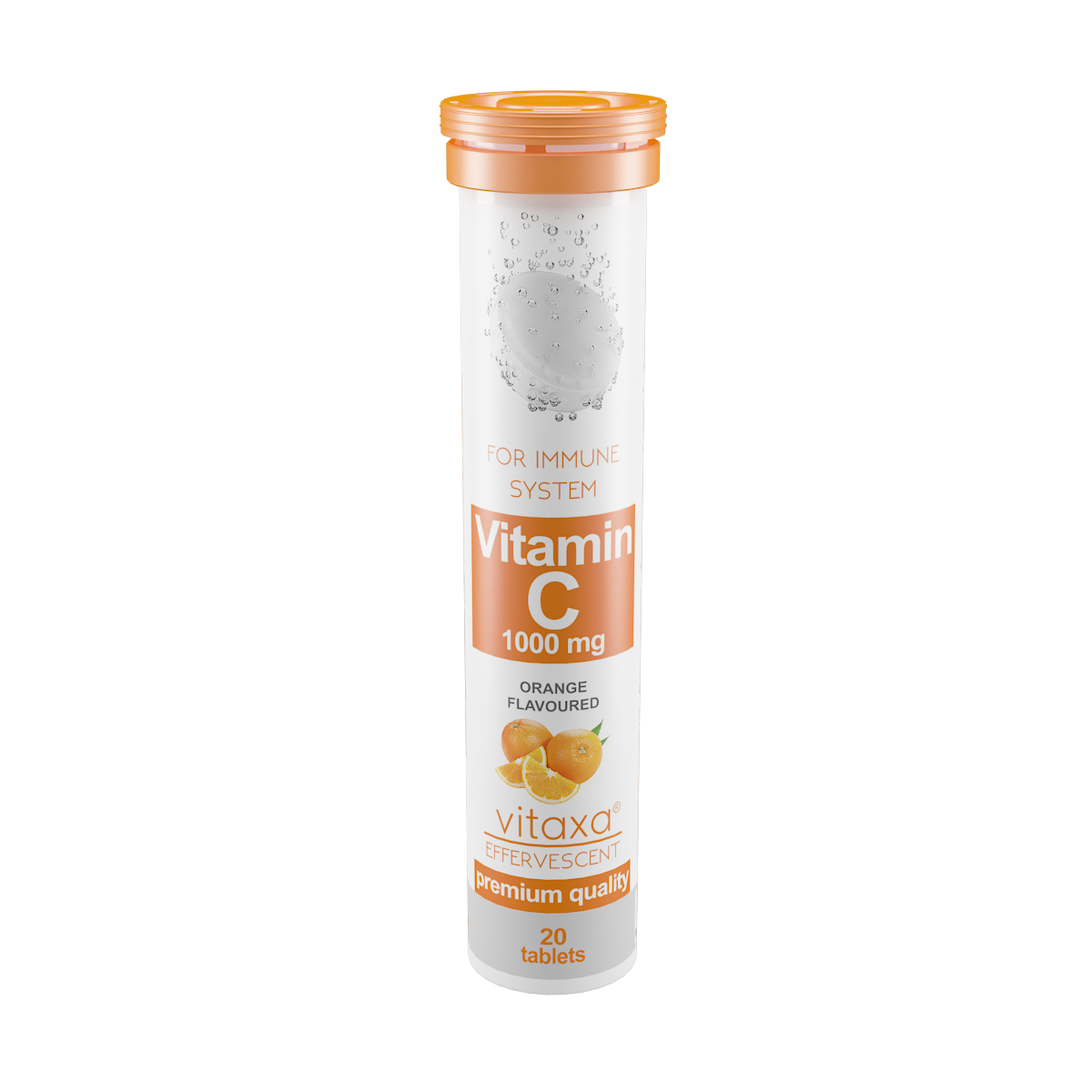 Description
Vitamin C is vital and has many important functions. It contributes to immune defense by supporting various cellular functions of both the innate and adaptive immune system. Helps to strengthen the body's natural defenses and adds vitality to the whole organism. It increases the resistance of the organism to infection and viruses.
In addition, vitamin C improves collagen production and contributes to normal functions of bones, joints, cartilages and skin and increases the absorption of iron.
Vitaxa Vitamin C 1,000 mg is a great boost for the whole organism. Form of effervescent tablets allow faster absorption and thus a faster effect of vitamin C. Effervescent tablets have a pleasant orange flavour and support the body in times of particularly high Vitamin C demand.
Composition
| Vitaxa Vitamin C | 1 tbl. |
| --- | --- |
| Vitamin C | 1000 mg |
Effects
Vitamin C helps to reduce fatigue and exhaustion
Vitamin C promotes immunity
Vitamin C contributes to normal collagen production for the normal functioning of blood vessels, bones, cartilage, teeth, gums and skin
Vitamin C is a powerful antioxidant, restricting the activity of free radicals that cause cell aging in the body
Dosage
One box contains: 20 effervescent tablets
Dosage: 1 tablet a day. Take before or with a meal and drink sufficiently.
Storage: In a dry and dark place, temperature of up to 25 C°.
Warning: Do not exceed the recommended daily dose. The product is not intended as a substitute for a varied diet. Keep out of the reach of children.
Manufacturer: Avanso s.r.o., nám. Svobody 528, 739 61 Třinec, Czech Republic