Calmazin
Healthy bones, teeth and nails
Contains the effective composition of three important minerals for healthy bones and the overall good condition of the body.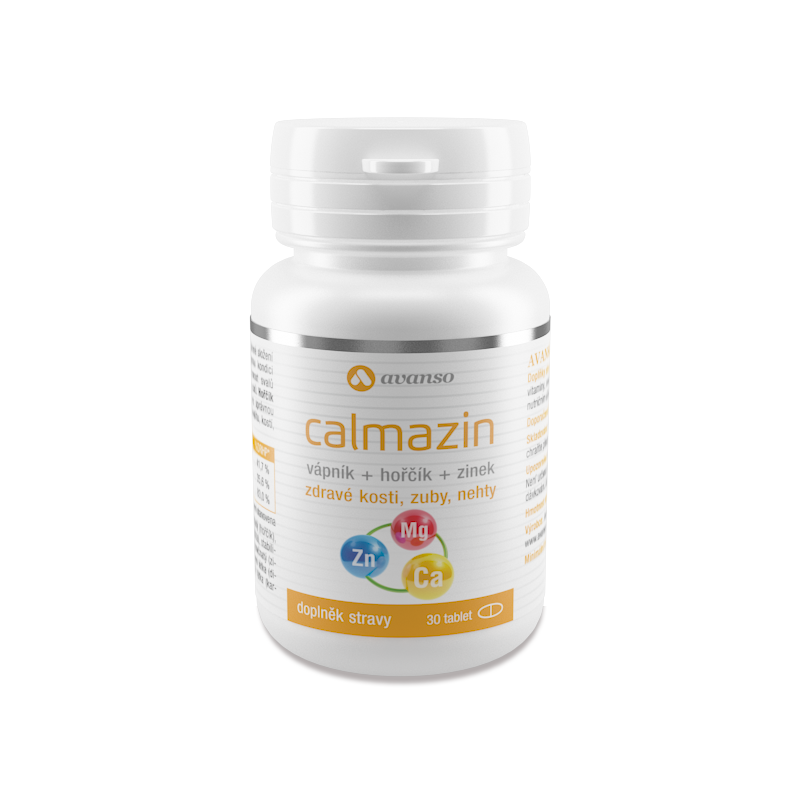 Description
Calmazin contains an effective combination of three important vitamins essential for healthy bones, teeth and nails. The combination of these active ingredients helps maintain the well-being of the body and promotes a healthy lifestyle.
Calcium contained in the preparation is an essential part of bones and teeth, keeping them healthy and strong. The bones represent up to 99% of all calcium in our body, so it is essential for many body functions. Calcium is necessary for the proper functioning of all the muscles in our body and is also part of blood plasma.
Magnesium is one of the most important elements in the human body. It is irreplaceable for most biochemical reactions in the body. Helps reduce fatigue and exhaustion, is essential for the proper functioning of muscles and nerves, moderate irritability and nervousness. It increases the use of proteins in the body and along with calcium it has calming effects.
Zinc has an important role in the activities of more than hundreds of enzymes in the human body, it has a beneficial effect on the metabolism of proteins, carbohydrates and fats. Maintains healthy blood testosterone levels, promotes whole body immunity, protects cells from oxidative stress. It helps keep hair, bones, nails and skin healthy.
Composition
| Calmazin | 1 tablet |
| --- | --- |
| Calcium | 333,3 mg |
| Magnesium | 133,3 mg |
| Zinc | 8,3 mg |
Effects
Calcium is necessary for the proper functioning of muscles and good nervous transmission, it supports the health of bones and teeth
Magnesium helps to reduce fatigue and exhaustion, it is necessary for the proper functioning of muscles and nerves
Zinc has a beneficial effect on the quality of bones, nails, skin and hair
Dosage
One box contains: 30 tablets
Dosage: 1 tablet a day. Take before or with a meal and drink sufficiently.
Storage: In a dry and dark place, temperature of up to 25 C°.
Warning: Do not exceed the recommended daily dose. The product is not intended as a substitute for a varied diet. Keep out of the reach of children.
Manufacturer: Avanso s.r.o., nám. Svobody 528, 739 61 Třinec, Czech Republic