Relaxil
Relaxation and calm sleep
Relaxil contains a combination of active ingredients that together promote regeneration, relaxation, calm sleep and fresh moornings.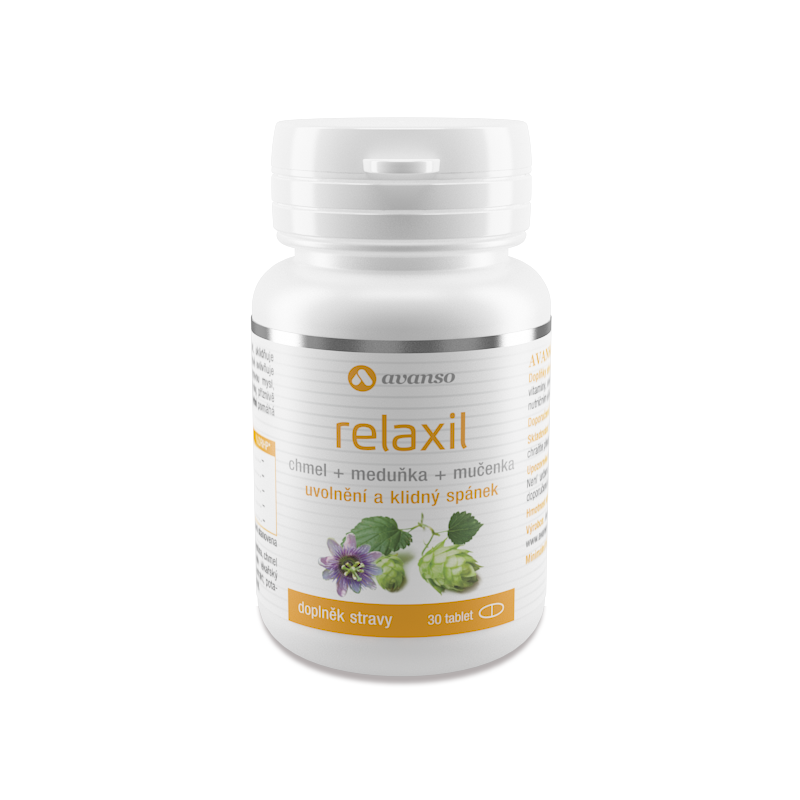 Description
Relaxil contains a combination of five natural substances that share regeneration, relaxation and quiet sleep. These substances favorably affect the mental health and mental well-being of the organism. It calms the mental stress and creates a sense of well-being.
Common hop revolving has many beneficial effects for our health. It is an antioxidant, soothes and relaxes the body. It is beneficial in situations of restlessness, sleep disturbances or restlessness.
Lemon balm has a soothing effect, it helps against stress, nervousness and sleep disorders. It has a positive influence on the mental health of the organism. Lemon balm is also called a cure for the whole body, releases convulsive withdrawal caused by nervous tension and soothes heart pounding.
Valerian supports healthy mind, cognitive function, has relaxing and anti-stress effects. It has a positive influence on the vascular system and blood pressure. It has a positive effect on neuroses, nerve exhaustion and insomnia. Supports sleep without unpleasant side effects.
Maypop helps in all forms of psychic exhaustion. Helps you sleep well and relax. They act primarily on our nervous system and make us more resistant to upcoming stress. In addition, it can also deepen the sleep and increase its quality.
Composition
| Relaxil | 1 tablet |
| --- | --- |
| Common hop | 100,0 mg |
| Lemon balm | 60,0 mg |
| Valerian | 50,0 mg |
| Maypop | 50,0 mg |
| Baikal skullcap | 20,0 mg |
Effects
Hop is an antioxidant, soothes and relaxes the body
 Lemon balm positively affects mental health
Valerian supports healthy mind, cognitive function, has relaxing and anti-stress effects, positively affects vascular system and blood pressure
Maypop supports quality sleep and helps to relax
Dosage
One box contains: 30 tablets
Dosage: 1 tablet a day. Take before or with a meal and drink sufficiently.
Storage: In a dry and dark place, temperature of up to 25 C°.
Warning: Do not exceed the recommended daily dose. The product is not intended as a substitute for a varied diet. Keep out of the reach of children.
Manufacturer: Avanso s.r.o., nám. Svobody 528, 739 61 Třinec, Czech Republic