Arthrovit
Healthy joints
Arthrovit has powerful combination of the active ingredients enriched with vitamin C. Arthrovit is recommended to be used at increased strain and joint stress.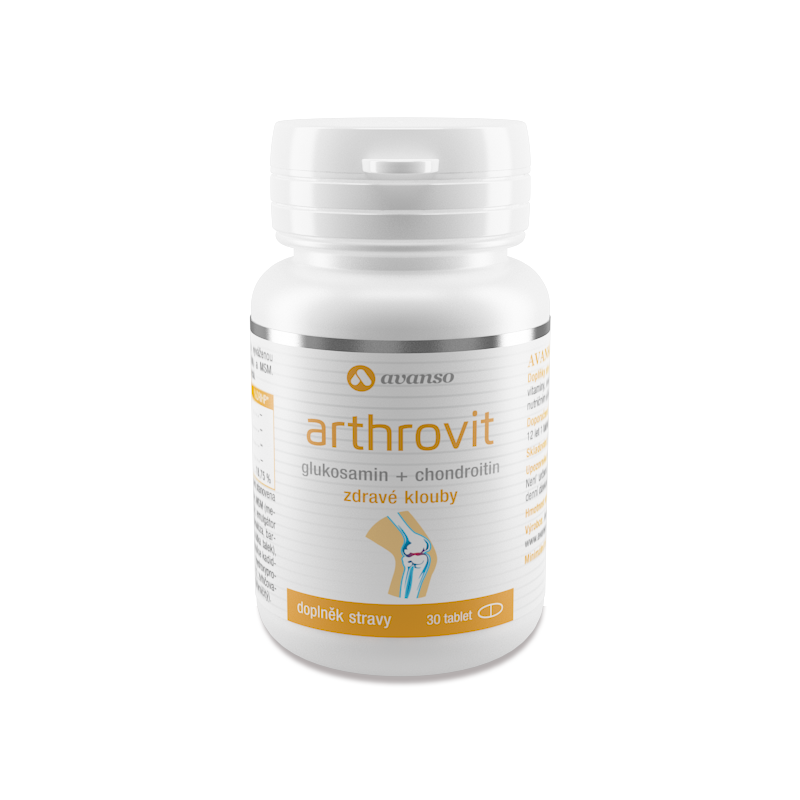 Description
The balanced composition of glucosamine, chondroitin, boswellia and MSM brings relief to your joints and effectively aids their regeneration. Arthrovit supports nutrition of joints, bones, tendons and ligaments. Arthrovit should be used at increased stress and joint stress.
Glucosamine sulphate acts as a building block in the formation of connective tissue of cartilage, hair, nails, tendons, and heart valves. Glucosamine is the substance of the body, it is produced in our body and continues to function in it. It provides nutrition to the joints and, together with chondroitin, achieves excellent results.
Chondroitin sulphate is part of the cartilage intercellular mass. It is a polysaccharide that osmotically retains water in the cartilage. Enough water in the cartilage improves its elasticity and reduces pressure on the joints while walking.
MSM (Methylsulfonylmethane) is an organic form of sulfur and contributes to the formation of collagen. Organic sulfur acts healingly and helps to wash off the pollutant from the body. In pure form, it is a white powder without a typical sulfur odor.
Boswellia Serrata has a high anti-inflammatory effect known for thousands of years. It acts antioxidant and protects against free radicals that, among other things, damage the joints.
Vitamin C is a well-known effective antioxidant that is needed for collagen production. Supports the proper functioning of the immune system, protects against oxidative stress and at the same time relieves exhaustion and fatigue.
Composition
| Arthrovit | 1 tablet |
| --- | --- |
| Glukosamine Sulphate | 500,0 mg |
| Chondroitin Sulphate | 400,0 mg |
| MSM | 300,0 mg |
| Boswellia Serrata | 25,0 mg |
| Vitamin C | 15,0 mg |
Effects
Glucosamine and chondroitin sulphate are naturally occurring components of connective tissues – bones, ligaments and cartilages
MSM is an organic form of sulfur and contributes to the formation of collagen
Boswellia serrata promotes joints health
Vitamin C is essential for proper formation of solid collagen fibers of joint cartilage and bone
Dosage
One box contains: 30 tablets
Dosage: 1-2 tablets apsule a day. Take before or with a meal and drink sufficiently.
Storage: In a dry and dark place, temperature of up to 25 C°.
Warning: Do not exceed the recommended daily dose. The product is not intended as a substitute for a varied diet. Keep out of the reach of children.
Manufacturer: Avanso s.r.o., nám. Svobody 528, 739 61 Třinec, Czech Republic